These does are under 3 months old and enjoy their freedom.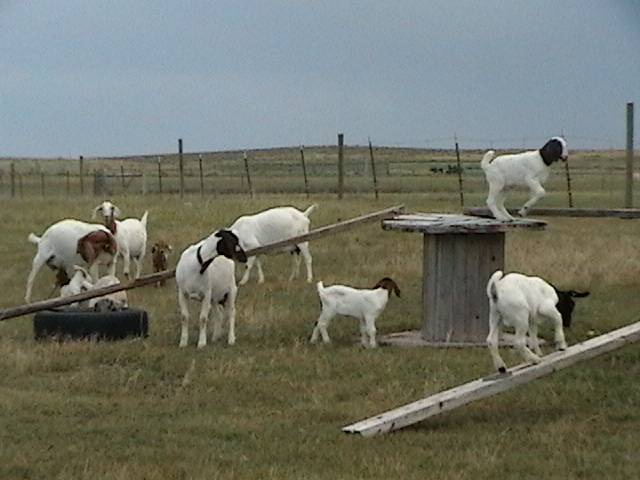 CROSSING THE BOER BREED WITH THE KIKO BREED PRODUCE A FAST GROWING MARKET GOAT.
THESE KIDS ARE COLORFUL IN A GREEN PASTURE. WE HAVE TRADITIONAL BOER COLORS TO PAINTS, WHITES, CREAM, REDS, BLACKS AND ANY COMBINATION IN A KIDDING. IT DOESN'T MATTER WHAT THE DOE IS SHE CAN THROW ANY COMBINATION. WHAT A SURPRISE!
TEMPERMENTS ARE GREAT. THESE ARE SMART ANIMALS AND CAN BE TRAINED EASILY. THEY HAVE GENTLE TEMPERMENTS AND GET ATTACHED VERY EASY TO THEIR OWNERS.
FAST GROWING KIDS ARE GOOD PROSPECTS FOR MARKET SHOW ANIMALS. OUR KIDS ARE ALL DISBUDDED BEFORE 5 DAYS OLD. THIS KEEPS THEIR HEADS FROM GETTING STUCK IN FENCE LINES AND A GOOD PROTECTION TO ONE ANOTHER. CHILDREN ARE PROTECTED FROM HORNS AND ENJOY HUGGING THESE KIDS IN A SAFE MANNER.
KIDS ARE EASILY TRAINED TO FOLLOW THEIR MASTER IN OPEN FIELDS. THEY COME WHEN CALLED AND ARE CURIOUS ANIMALS. ALL OUR KIDS ARE RAISED IN THE FIELD WITH THEIR OWN HOUSING FOR WINTER PROTECTION. DURING THE SUMMER MONTHS THEY LIVE STRICTLY ON PASTURE, FRESH WATER AND A MINERAL BLOCK. NO SUPPLIMENT FEED IS NEEDED DURING THESE MONTHS.